Redefining entry-level longboards.
Entry-level board ≠ sacrificing power. Whether you're a beginner seeking the right board to enter your journey in ESK8, or an experienced rider looking for a less bulky alternative to your heavy-duty all-terrain board, WowGo 2S Max with the 12S2P battery configuration and 1100W Total Power Hub Motor System is the best choice.
Powerful 2*550W
Hub Motors
No power sacrifice here. The system delivers 1100W for high torque and speed. Compatible with 105mm Honeycomb wheels.
216Wh 12S2P
High-voltage Battery
Higer voltage makes a big difference on performance. 12S2P battery with high energy density & lower self-discharge rate cells.
Hobbywing × WowGo
V5.0 ESC
Smooth ride guaranteed. Top ESC Hobbywing, fast response, safety features for precise control, no delays.
Up to

14.3

Miles
Real world range tested by 75Kg rider in gear 2/3.
28Mph/45Kph
Acceleration & braking are buttery smooth and intuitive.
Premium Deck
8 Ply Canadian Maple
+Foam Griptape.
Digital Display Remote
Reliable, responsive control.
Speed & range display.
30% Hill Grade
Motors provide consistent power to the wheels.
Performance awaits, the choice is yours.
12S2P battery configuration outclasses the typical 10S setup.

With 50.4V voltage, 2S Max delivers superior power output and efficiency, and near zero voltage sag.

Simply unmatched in its class.
Exceptional range
A 216Wh capacity is the top-level choice for beginner boards, offering a real-world range of 14 miles.

The range for this board was tested by a rider weighing approximately 75kg, using speed modes 2 and 3.

For a daily commute, it certainly provides a sweet and sufficient range.
Smooth & Comfortable Rides
Nobody would refuse a board that offers a smooth and comfortable ride.

At WowGo, we address road vibration by using a high-quality 8-ply Canadian maple deck and further enhance its performance with an in-house designed shock-absorbing grip tape.
Effortless Control
7.5'', 50° truck design makes Carving becomes a breeze.

Wider and higher degree promise a stable and fun ride for anyone.

You will experience the thrill of e-skateboarding the moment you pick up speed.

WOWGO 2S MAX
OLED Remote
50.4V 2A Charger
Charging Cable
Skateboard T Tool
Skateboard Y Tool
2S MAX Manual
Sticker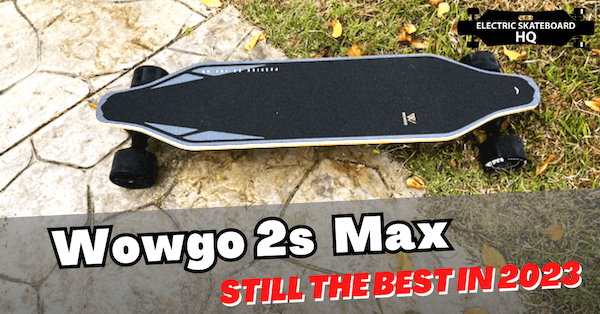 At 2023, the one year old Wowgo 2s Max still is the best affordable electric skateboard out there.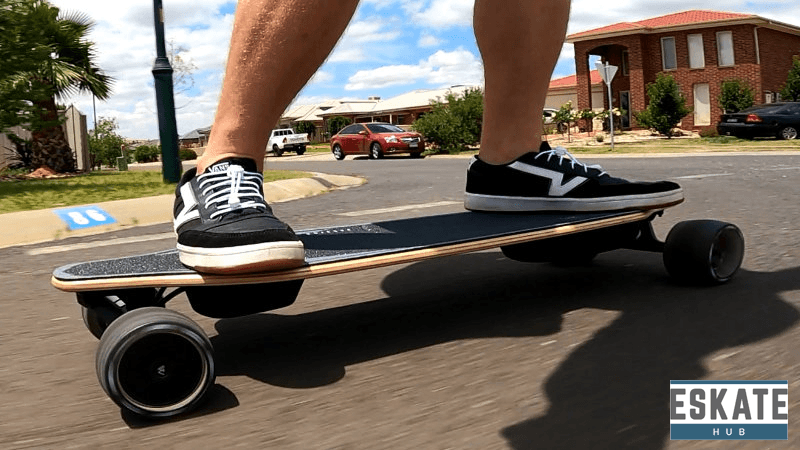 This article reviews latest entry-level electric skateboards, comparing them with the WowGo 2S Max, a consistent market performer. Despite the enticing tech of newer models, the WowGo 2S Max's price, comfort, and performance make it a top choice for budget-conscious buyers.