Blog
Wowgo Pioneer 4 Review – Can It Beat Exway Flex ER?
Apr 04, 2023
It's been almost a year since we reviewed the Wowgo 2s Max, which we considered the best budget electric skateboard at $500. 
Now, meet the Wowgo Pioneer 4—a new and better Wowgo with a $700 price tag. The name might be new but the Pioneer 4 hub and Pioneer X4 belt are actually successors of the wildly popular Wowgo 3 and 3x. 
However, Wowgo Pioneer 4's $699 retail price will be going head to head against the very popular Exway Flex ER. Direct comparisons are unavoidable, so that's what we will do throughout this review.
Before we get into real-world riding experience, let's run through the specs real quick!
Wowgo Pioneer 4 Build and Specs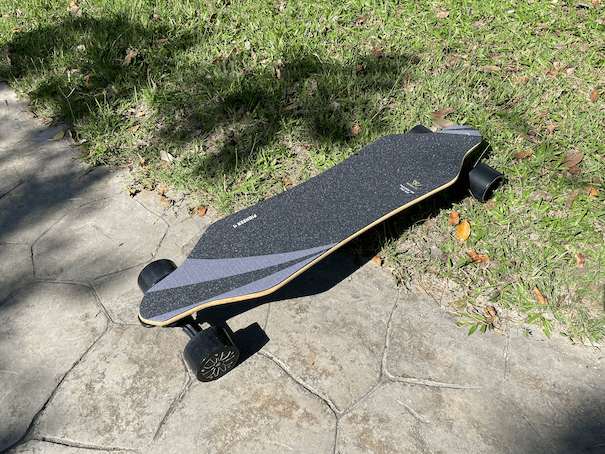 Deck:

 

Canadian maple, bamboo, and fiberglass; mild flex, wide and subtle concave
Electronic Speed Controller:

 

12s Hobbywing ESC
Battery:

 

12S2P 345Wh 8.0Ah Samsung 21700 40T
Marketed Range:

 

22 miles (35 km)
Motors:

 

Hobbywing 2*680W HUB Motors(5230)
Marketed Top Speed:

 

28 mph (46 kp/h)
Trucks:

 

45° Reverse KingPin
Wheels:

 

78A soft 90 mm PU wheels (with 105mm Cloudwheels option)
The WowGo Pioneer 4 deck was made with a combination of Canadian Maple, bamboo, and fiberglass. It has a mild but respectable flex to it. The concave is wide but subtle with a flat profile. There's no camber or rocker. 
As always, Wowgo put on a foam grip tape to improve vibration absorption, which helps when riding on rough roads. The design on the grip tape is alright, but we really like the graphic design on the bottom of the deck. The stealthy black and gray color theme gave the board a premium look. As you can see, the board's overall polish and build quality are also tip-top. 
The Wowgo Pioneer 4 also uses a 12s Hobbywing ESC. The brand claims to be a newer 5.0 version, not that we notice any difference. Of course, it also comes with a smart power-on feature. 
There are 4-speed modes, with the highest speed mode named Turbo. As usual, it uses the familiar remote that comes with telemetry. 
Now, let's look at the trucks. Wowgo Pioneer 4 uses a 45-degree reverse kingpin truck. Compared to the Wowgo 2s Max 50-degree trucks, these trucks felt more satisfying to carve and easier to turn.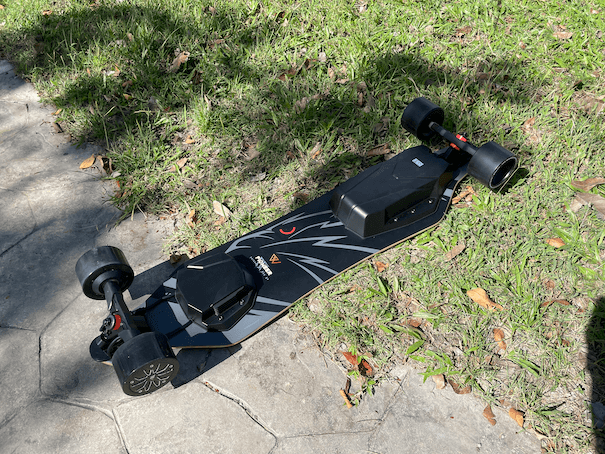 As for the motors, Wowgo Pioneer 4 uses 680W dual hub motors. These should be powerful enough. For context, the very strong Meepo V4s were rocking dual 540W motors, and the Wowgo 2s Max dual motors also gave more power than anyone would need. 
To check out our Meepo V4S review, click here.
On the other hand, the similarly priced Exway Flex ER does have a much higher wattage on its hub motors. On paper, the Exway Flex ER rocks dual 1000w hub motors. Then again, motor wattage is a poor judgment of a board's actual torque and power. Fortunately, we have reviewed both of these boards and will compare them later.
This 680W motor on the Pioneer 4 does have a healthy marketed top speed of 28 mph or 46 kph, and we managed to hit 44 km/h during our top-speed test. This is the same result we got from the Exway Flex ER.
When it comes to power, Wowgo Pioneer 4 uses a 12S2P 8.0 AH battery with good Samsung 40T cells. This gave a battery pack of 345wh in size and had a marketed range of 22 miles or 35km. Exway Flex ER also has the same battery configuration and size. 
Riding the Pioneer 4 aggressively in the highest speed mode, our 155 lbs or 70 kg test rider managed to get 15.5 miles or 25 km. If you ride conservatively, you probably can achieve the 22 miles or 35 km as advertised.
Now, let us look away from the electronics and move on to the wheels. Wowgo Pioneer 4's standard wheels are 78A soft 90 mm PU wheels. These wheels perform pretty well on tarmac roads.
There are also 105mm Cloudwheels available as an added option. We will talk about how they perform later.
The board weighs 18 lbs or 8.2kg and comes with a 6-month warranty. The board was put together really well, certainly as good as the Exway Flex ER or any premium brand.
Interested to learn more about Exway Flex ER? Click here.
Wowgo Pioneer 4 Ride Experience
Now that we know the build and specs, it's time to ride!
First, let's talk about speed control. Wowgo Pioneer's speed control is perfect, as can be expected from the 12s Hobbywing ESC.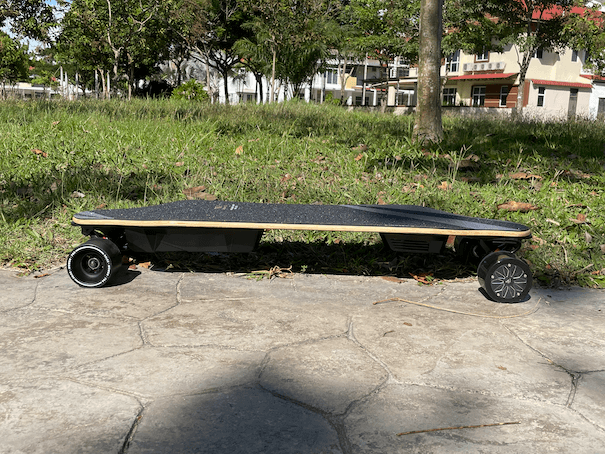 Both the acceleration and braking of the Pioneer are buttery smooth and intuitive. The motors feel powerful, and the braking is very strong too. 
Pioneer 4's dual 680W motors perform just about as well as Exway Flex ER's dual 1000W motors. In fact, if you did not use Exway's mobile app to max out the power configuration, the stock Wowgo Pioneer 4 is actually the more muscular ride out of the two. 
With that being said, both boards are powerful enough for even the heaviest rider.
When it comes to turning and carving, we're pretty impressed with how Pioneer 4's trucks perform. The board is fun to carve and responsive to control. Sharp turns are not a problem.
Right out of the box, the Flex ER is much more nimble and carves harder compared to Exway Flex ER. The Pioneer, on the other hand, is more stable and allows a relaxed ride even at top speed.
Like all hub-driven boards, Wowgo Pioneer 4 rides the best on a well-paved road. You can feel the strong road vibrations on poorly paved roads, but it's tolerable. Unlike the Backfire Era 2, the Wowgo Pioneer 4 performs much-much better on the poorly paved tarmac. At the end of the day, having a flexible deck and using foam grip tape will help. 
In case you don't know yet, Backfire Era 2 is the most portable eskate we reviewed! Learn more here.
Install the 105mm Cloudwheels and it improves further. Just keep in mind that you will sacrifice some range and some of that 'sticking to ground ride feel'. 
To round up the riding experience, Wowgo Pioneer 4 is an all-around great board that both beginners and veterans will like. It has great torque, good range, and is a comfortable ride. It has good specs for $699. It is very well-built, and it looks nice. 
The VERDICT – All-Around Board for Beginner and Veteran Eskaters
However, is it the best board in the $400-$800 range? Or perhaps, we should just cut to the chase and ask ourselves, is the Wowgo Pioneer 4 a better buy than the Exway Flex ER which has the same battery size, same 12s Hobbywing ESC, similar ride profile, and similar built quality, and post-sale service?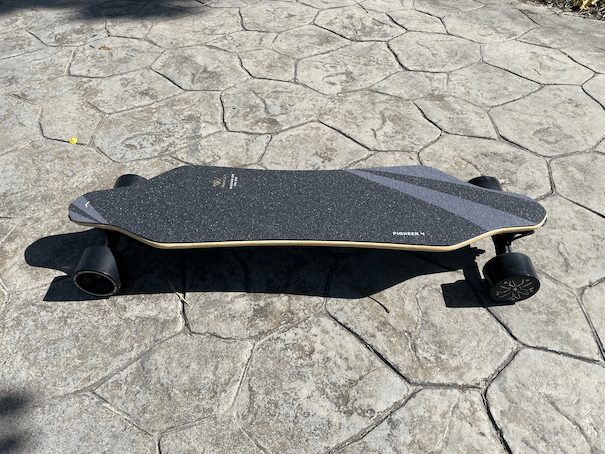 Well, it is a close call, but I guess it comes down to things like ongoing promotion, waiting time, and stock availability.
When factoring in the shipping fee, Exway Flex ER can be $150 pricier than the Wowgo Pioneer. With that higher price, you do get a smartphone app, a waterproof rating, and a fast charger out of the box.
If those features aren't important to you, or you are the frugal type, go with Wowgo Pioneer 4 instead; it is a similar board for less money.
reviewed by PAXSON LIM from: https://www.electricskateboardhq.com/wowgo-pioneer-4-review/