Blog
Wowgo Knight (hub) Review – Now it's the best.
Nov 10, 2020
In September 2020, Wowgo released a new product into its lineup – the Wowgo Knight.
Wowgo obviously didn't think through the sales plan of the product. When we received the board, we weren't immediately informed of the specs and price, that came later. This gives us a chance to form our opinion of the board without being sway by what's on paper.
And from the outset, everything we see suggested to us that this is gonna be an entry-level board replacing the 2-year-old Wowgo 2S.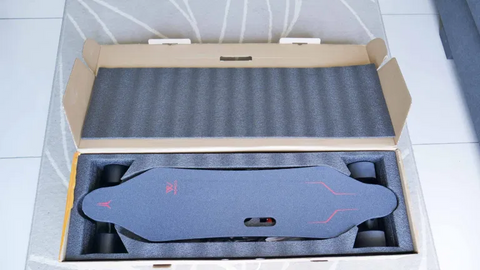 The board has a handle cut out that is sort of a tradition for entry-level boards; The board uses a 5AH battery, which is at the ballpark of most entry-level boards; also, non-branded truck, you get my point.
To our surprise, Wowgo launched the Knight at $499 for the hub variant, and $549 for the belt variant – $100 pricier than your typical budget board. This is even more surprising considering it was priced higher than the heavily discounted Wowgo 3 !
I teased Wowgo that they are stupid with the pricing (but politely of course), and much to my surprise, they dropped the price immediately to the current $429 (hub) and $489 (belt) [after discount].
I love this current pricing for the Wowgo Knight, even though I don't love that I have to come back and update this review heavily in response to the price drop.
With the old price, it is difficult to explain what Wowgo Knights are good for: "A mid-tier board that is a bit weaker in performance, look budget-ish but is actually very high in quality and polish, especially for the internals components."
With the new $429 price tag, it is now simple to talk about Wowgo Knight: "The best entry-level board for most people".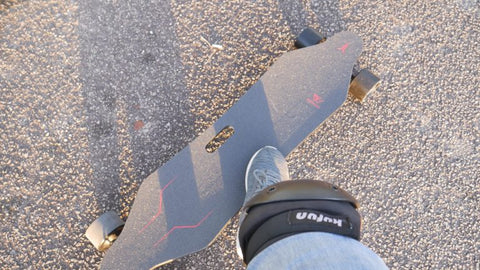 Now, let me show you why.
Wowgo Knight (hub) (Standard) review
As usual, let's start by taking a look at the specs.
As mentioned, Wowgo Knight (hub) has the spec that similar to most $400 boards. or maybe 10% better.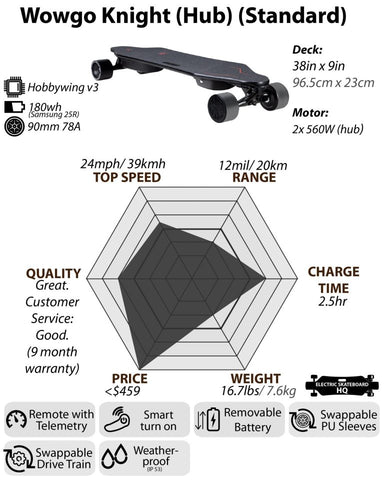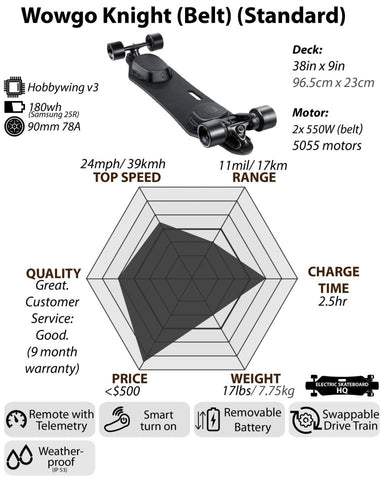 Deck Size: 38-inch x 9-inch (96.5cm x 23cm)
Top Speed: 24mph (39kmh)
Range: 12miles (20km)
Battery Pack: 180Wh (Samsung 25R in a 10s2p, 5Ah)
Weight: 16.7lbs/ 7.6kg
Motor: 2 x 560W hub motors.
Wheels: 90mm 78A
Price: 429 USD (after discount code)
Features:

Remote with Telemetry,
Smart power-on,
IP 53 weatherproof,
swappable PU sleeves.
Let's take a look at the electronic components on the Wowgo Knight:
Motors – Tied as the best
Wowgo Knight (hub) uses a set of 540W hub motor. What does 540W means? The market standard for entry-level boards is to use 400W hubs, Backfire G2 Black 2020 for instance, has a pair of 400W hubs.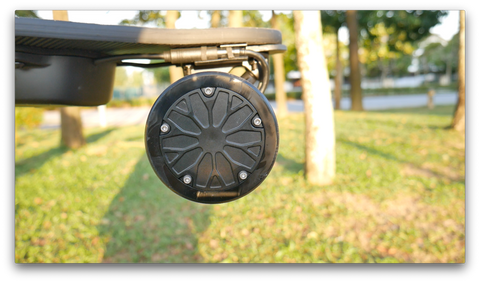 Meepo V3, which has been the most powerful budget board all this while has 540W motors too. Obviously having the most wattage in motor doesn't automatically means the board is gonna be powerful, but not having a good motor obviously means the board won't be powerful.
In real world riding, the acceleration of Wowgo didn't blow us away. It's not thrilling, its competent. It has no trouble going uphill and hitting it's marketed top speed of 24mph (39kmh).
Battery – Samsung 25R
In the range department, the Wowgo Knight uses Samsung 25R batteries, in a 10s2p setting, that's 5AH or 180wh and has a marketed range of 12miles (20kmh), which we managed to surpass in our range test.
Most budget board this day uses Samsung 20R in 10s2p configuration, making them a smaller 4AH and 144WH pack. Just like everything else, Wowgo Knights are better, slightly better.
ESC and Remote – All hail smart power-on!
Wowgo Knight comes with customised Hobbywing ESC, with smart power-on feature, which means the board will power-on automatically as you turn on the remote. I see this as the most important feature any board can have, just to quantify it in monetary terms – I'm willing to pay $50 extra for this feature alone.
It seems to me that Wowgo have some special relationship with Hobbywing, as so far this feature is only available for Exway and Wowgo.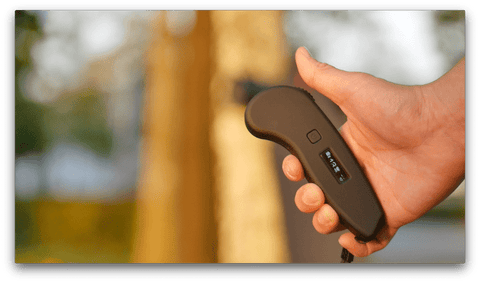 Customized Hobbywing ESC on Wowgo also means perfect smoothness in both acceleration and braking. Perfect strength in both braking and acceleration too. Not a surprise, we already come to expect that from this new generation of Hobbywing ESC.
Also, this ESC has a smart feature that allows you to switch between belt drive and hub drive. This feature was first seen on the Exway Flex, and I consider this a gimmick more than anything. Most of us have already made up our minds on what drive train we like, and the ability to switch drive trains is a feature that most people wouldn't use.
The only scenario where I see this being useful is for someone who is new to the sport, and who bought the hub variant and later down the line is convinced that belt is the way to go. This way they have the option of just buying a belt-drive instead of an entirely new board.
Enclosure – Same as always.
Like every other brand, Wowgo Knight reuses the same enclosure for most of their board. Nice or not, you be the judge.
Oh, the board is IP 53 waterproof, which is pretty sweet.
Now let's look at the skate parts of the Wowgo Knight
Deck – mild flex with handle cut out.
The Wowgo Knight uses a 38-inch deck made out of 8 ply real Canadian Maple. It has only a bit of flex to it and a mild concave, but my feet still feel comfortable on it.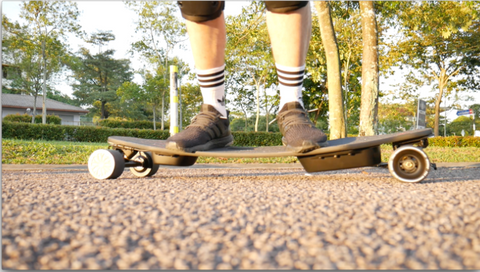 The handle cut out is handy, but it does take some point away from the overall aesthetic of the board. Simply put, it makes the board look cheap.
The graphic of the grip tape is… again, subjective. I'm not a fan of it.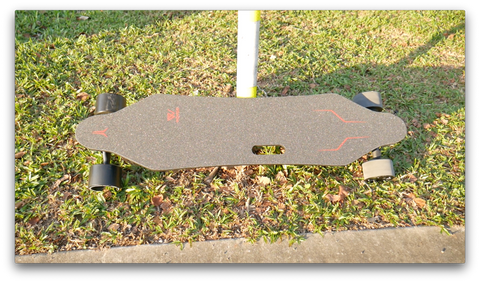 Truck – Paris clone
The trucks are not genuine Paris, but a Wowgo Paris clone. These Paris clones are good, but of course, not as good as the real Paris Truck.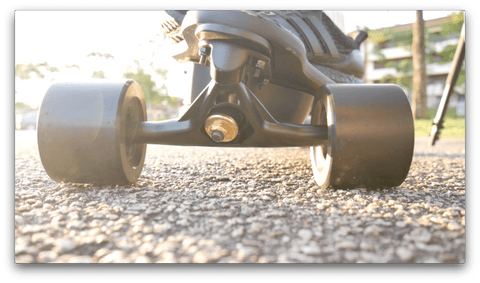 It's easy to carve and easy to turn with, but not as silky smooth as a genuine Paris Truck.
Let me illustrate it this way:
I went from Backfire G2 Black's Caliber clone truck to the Wowgo Knight's Paris Clone truck and I thought: "Wow, this one is so much better than the last one!"
Then I went from Wowgo Knights Paris Clone truck to Meepo's NLS Boosted truck and I thought: "Wow, this one is so much better than the last one!"
(Note: My Paris Truck is not with me at the moment to do side by side comparison, but I remember Paris Truck to be as smooth as the Boosted Truck.)
Wheels – It's fine.
The wheels are 78a 90mm. They are fine.
Riding Experience
 

on the Knight

So, this is how I feel when riding the Wowgo Knight.
Speed control – Perfect
As mentioned, the speed control is perfect as expected from the latest customized Hobbywing ESC. Perfectly smooth acceleration and braking, good strength in both as well.
The stronger than average 540W dual hub certainly plays its role here.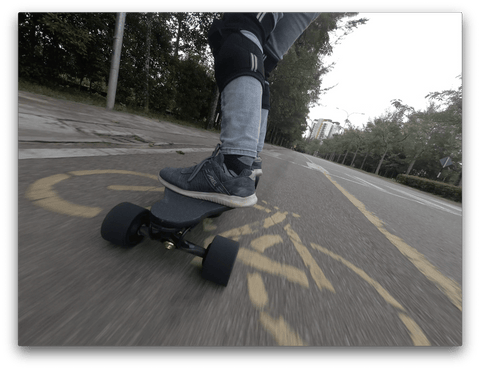 Ride comfort – Almost great but..
The deck that has minor concave makes it comfortable for my feet. Remember the deck is on the stiffer side? Hub board + stiff deck = very uncomfortable ride on poorly paved roads.
There is no way around it, for instance, Meepo V3 has a pretty flex deck and it's still felt terrible in poorly paved roads due to the thin PU sleeve on the hub wheels. Wowgo Knight doesn't have the 'assets' to be comfortable on poor roads and it's no surprise that it's worse.
This is also why, Wowgo 3 felt comfortable and premium as the flex deck compensate for the road vibration coming from stiff hub motors; while Wowgo Knight felt almost 'cheap' when you ride it on super rough roads.
I imagine it would be a lot better in this situation for the belt version of Wowgo Knight. 4 real wheels absorb rough road signifcantly better than when you replace 2 of them with stiff hub wheels.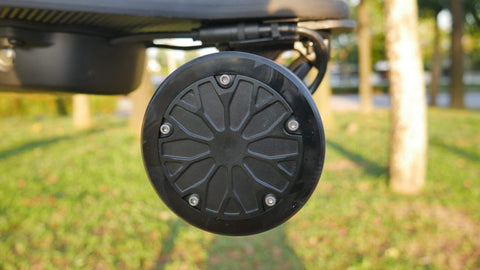 Again, as mentioned, another "weak point" of the Wowgo Knight would be the trucks. Saying them good or bad depends on your reference point. When it's a $499 board, it's a weak truck as we are comparing it to other mid-tier board with genuine Paris Truck (Wowgo 3) or genuine Caliber trucks (Backfire G3). When it's $429, it is a freaking good truck as you are comparing them to other budget boards with much worse generic or clone trucks.
To elaborate further, the rebound of the trucks and the smoothness in turning is good, but still a level below genuine Paris. It's probably the bushings. Again, if compared to genuine Paris or the Boosted trucks now on the NLS Belt, I would describe the feeling as being more like I'm steering the board instead of surfing on it.
Verdict: I rest my case.
Since 2017, the best budget board of the year would be determined by how this 3 company plays their card. Meepo, Backfire and Wowgo.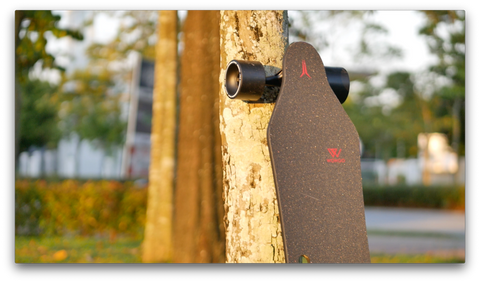 For 2020, all the cards has been played.
This year, all Meepo did was improving last year's model Meepo V3with an updated ESC and new remote. It is the right board for those who want the highest thrill and highest top speed.
On the other hand, Backfire refreshed its G2 Black and continues to be a beginner-friendly board with bigger 96mm wheels and a good polish.
Wowgo Knight, however, is undoubtedly the best option for most people having almost match the Meepo V3 in raw power, has a ride feel that is better than G2 Black, and a refined control that is as good as any mid-tier board. Plus it has smart power-on.
Well, I supposed it's not a fair fight. After all, Wowgo Knight was shooting to be a mid-tier board, missed it, and landed amongst the budget boards.
*By PAXSON LIM from electric skateboard HQ.