Blog
Wowgo 3E Review – Are we entering the age of Affordable Belt-Drives!?
Sep 18, 2023
This article is a repost from Electric Skateboard HQ. The original article, written by PAXSON LIM, can be found here.
On 1 July 2023, Wowgo introduced the Wowgo 3E, a belt-driven electric longboard for just $499. It's rare to find such boards for less than $500. Belt-driven electric skateboards are often more expensive, and the majority of those under $500 are either older models after price reductions or underpowered boards from lesser-known brands.
With so much talk about rising prices everywhere else, it's nice to see quality electric skateboards becoming more affordable. Score for us!
The Wowgo 3E and Wowgo Pioneer series, which were released earlier this year, are the 2023 successors of the massively popular Wowgo 3X. They've retained what works: a flexible deck, the reliable smoothness of a Hobbywing ESC, and a dual belt drive system.
Read our press release on the Wowgo 3X here.
I'm betting the "E" in 3E stands for "Economic", especially when you consider the Wowgo 3X was launched with a price tag of $749. At the moment, the Wowgo 3E is also the budget-friendly alternative to the Wowgo Pioneer X4, a mid-tier board currently priced at $699.
Read our review of the Wowgo Pioneer X4 here.
Wowgo 3E Specifications:
| | |
| --- | --- |
| Price | From $449.99 |
| Battery | 12S2P, 216Wh, 5.0Ah |
| Controller | 12s Hobbywing ESC |
| Top Speed | 45 Kph / 28 Mph |
| Range | 13 Miles / 21 Km  |
| Deck | Concave Canadian Maple, Bamboo and Fibreglass |
| Motor | 2×650 5055 Belt Drive Motors |
| Net Weight | 16.5lbs / 7.5kg |
Deck – Canadian Maple, Bamboo and Fiberglass hybrid
The deck is made from a mix of Canadian maple, bamboo and fiberglass, making it very flexible. It features a nice concave and a handle cut-out which may make the board look a bit cheaper, but it's always handy when carrying the board around. The board weighs in at 16.5lbs (7.5kg), making it one of the lighter options.
Electronic Speed Controller (ESC) – 12s Hobbywing
The Wowgo 3E uses the trusted 12s Hobbywing ESC, which has four-speed modes and provides smooth and intuitive control. This board also has a smart turn-on feature, which means that turning on the remote automatically turns on the board.
This ESC is partnered with Wowgo's proprietary remote, which is likely one of the most attractive on the market.
Battery – 12S2P, 216Wh, 5.0Ah: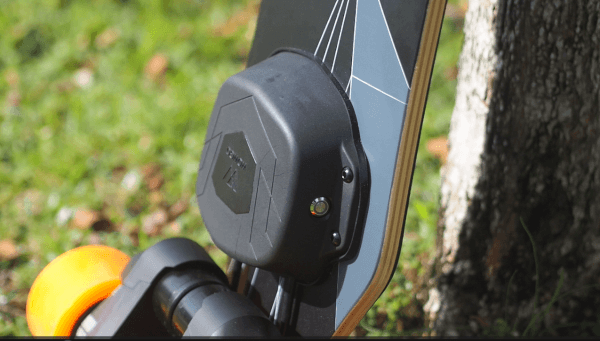 This is a 12s2p , 5AH pack. This totals up to 216Wh. This is a solid size for a $500 board, and a 12s system is important to get the most out of a belt-driven system.
It's advertised to last for 13 miles or 21km, but in our tests, our 155 lbs (70 kg) rider managed 9.3 miles (15 km) at high speeds. It's not great, but it's a decent range.
Motor – 2×650 5055 Belt Drive Motors:
The Wowgo 3E is equipped with two 650 Watts 5055 motors, just slightly smaller than the Wowgo Pioneer X4's dual 700W 4230 motors. It boasts a top speed of 28 mph or 45kph, which we were able to achieve throughout our tests.
Reverse Kingpin Trucks and 90mm PU Wheels:
Wowgo 3E uses Wowgo's proprietary reverse kingpin trucks with 90A bushings. These trucks are similar to those found on the Wowgo Pioneers, and we know they operate well based on our experience with the Pioneers.
Two wheel options are available. The base model, priced at $449, comes with 78A 90mm wheels. For $529, you can upgrade to 105mm honeycomb wheels.
Specs summary of the Wowgo 3E:
From what we've seen, the Wowgo 3E offers impressive specs for a $500 electric skateboard. Typically, boards in this price range feature hub motors, a 10s2p battery, and perhaps a 26 mph top speed. The Wowgo 3E, on paper, seems like a fantastic deal. As always, we recommend checking our comparison page if you would like to do your own detailed analysis.
The Riding Experience of Wowgo 3E:
Unsurprisingly, the board offers an exceptionally smooth ride. With the 12s Hobbywing ESC, you're guaranteed perfect smoothness in both acceleration and braking. The board grips the tarmac effectively thanks to its flexible deck, responsive trucks, and the presence of all four soft polyurethane wheels, making it a joy to carve.
It also excels in handling road vibrations. This, I believe, is the Wowgo 3E's main selling factor. Many e-skaters I've known couldn't stand the feel of stiff hub motors and ended up paying $600 or more for a good belt-driven longboard. If this describes you, the Wowgo 3E is a great choice.
Again, we expected the Wowgo 3E to be a buttery smooth ride, as was the case with the previous Wowgo 3X. What is surprising about the Wowgo 3E is its power. While the acceleration isn't insane, it is powerful. It packs a punch while remaining smooth. When compared to its bigger brother, the Wowgo Pioneer X4, the 3E feels nearly as powerful. This means that the Wowgo 3E outperforms its pricing in terms of power and torque.
The other aspects of the ride are quite good too. The trucks remain stable, even when reaching its top speed of 28 mph or 45 kph. The rather prominent concave on the deck also helps; it makes our feet feel more secure on this flexible deck.
Verdict – Great Bang for your Buck
All in all, it's hard to find fault with the Wowgo 3E. While it doesn't have a premium look and has a limited range, the Wowgo 3E offers a buttery smooth ride with power surpassing other boards in its price category. It has all of the advantages of a belt-driven board and is a safe bet for anyone looking for an electric skateboard under $500 right now.