Blog
Introducing Wowgo Pioneer 4 and Pioneer X4
Nov 14, 2022
On October 2022, Wowgo announced a set of new boards, the Wowgo Pioneer 4($649) and Pioneer X4($699). Wowgo Pioneer 4 and the X4 share the same specs, with the only major difference being the drive train they use. In case it wasn't clear, Pioneer 4 – hub motors; Pioneer X4 – belt motors.
TLDR; Wowgo Pioneer 4(hub) and Pioneer X4(belt) are designed to be smooth rides that maximizes carving fun. The pair also has competitive specs for its asking price (starting at $649).
Click here to go to Wowgo Pioneer 4 and X4 product page.
Despite the new name, the Wowgo Pioneers series is actually not a new line of products, but the 2022 iteration of Wowgo 3 and Wowgo 3x. For those who are new to the sport, Wowgo 3 and 3x were first launched back in October 2019 (time flies!), and are wildly popular for their buttery smooth riding experience.
Looking for a trip down memory lane? Click here to read our review of the Wowgo 3.
What was improved? Everything.
The old Wowgo 3 and 3x were well-rounded boards. Besides the silky smooth riding experience that they were known for, they were completed with above-average power, battery, and polish. So it is easy to see why Wowgo took an ' if it ain't broke, don't fix it ' approach and went for incremental upgrades over a proven formula.
Specification of Wowgo Pioneer 4 and X4
Deck:

 

38.5 inch x11.2 inch (98CM x 28.5CM)
Electronic Speed Controller:

 

12s Hobbywing ESC; 4-speed modes, smart turn-on
Battery:

 

8AH; 12S2P; 345 Wh Samsung 40T (21700)
Marketed Range:

 

21-22miles (33~35 km)
Motors:

 

2 x 680W hub-motor(Pioneer 4), 2 x 700W belt-motor(Pioneer X4)
Marketed Top Speed:

 

 28mph (46kmh)
Trucks:

 

Wowgo's Proprietary Trucks (45° truck)
Wheels:

 

90mm streets, 105mm cloudwheels
Weight:

 

18lbs/8.2kg (Pioneer 4) ,18.5lbs/ 8.4kg (Pioneer X4)
Price:

 

$649 (Pioneer 4)

 

&

 

$699

 

(Pioneer X4)
Retaining the silky smooth riding experience
Going with a flexible deck, Hobbywing ESC, and responsive trucks means the Wowgo Pioneers are going to be buttery smooth in both speed control and in carving.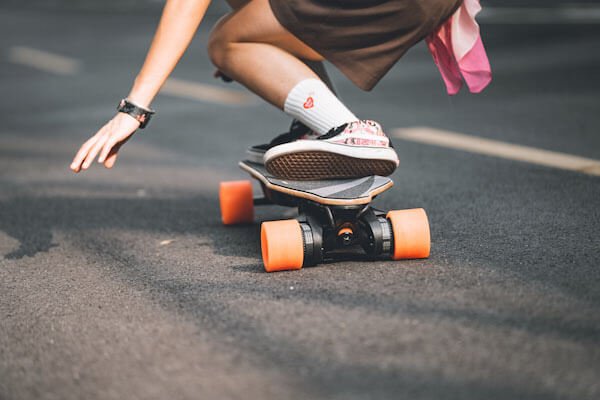 Flexible deck with wide concave
Wowgo Pioneer 4 and X4 uses a 38.5″ deck made from maple, fiberglass, and bamboo. The deck has a good amount of flex, roughly the same amount as the Wowgo 3 and 3X. It has a healthy concave, nothing crazy, just enough to help your feet feel comfortable on it.
Hobbywing V5.0 ESC
At this point, Hobbywing ESC needs no further introduction as it has been the gold standard of smooth and intuitive control for close to half a decade now. The smart power-on feature where the board automatically powers on when switching on the remote is also a universally loved feature that's available with Hobbywing ESC. With the newer iteration of the Hobbywing V5.0 ESC, we can expect improved power and stronger braking.
Goodbye Paris trucks
Unlike its predecessor, the Pioneer series moved away from using branded Paris trucks. Both are now using Wowgo's own proprietary trucks. The Pioneer 4 and X4 went with the same set of trucks as the Wowgo Mini 2, with some adjustments being made on the X4 for the belt system.
We reviewed the Wowgo Mini 2 a while back, so while we mourn the loss of Paris trucks, we can vouch for the quality of Wowgo's proprietary trucks. That trucks are well-balanced and nimble on the feet, and stable at high speed. The Wowgo trucks should do just as well as the Paris, and keep the carving experience smooth and fun.
Wheels – 90mm wheels with 105mm cloudwheels options
Unsurprisingly, the Wowgo Pioneer 4 and X4 come with standard 90mm wheels with the option of including the 105mm cloudwheels for $100 more.
The 90mm wheels are pretty good, all major electric skateboard brand nowadays uses high-quality wheels that are both soft and durable. Soft wheels are keeping with the theme here, as they provide the final touch for a buttery smooth carving experience.
With that said, 105mm cloudwheels, as good as they are, do take away some of the carving fun. Unlike soft urethane wheels, the narrow contact patch of the cloudwheels doesn't have that 'sticky ride feel' that makes carving fun.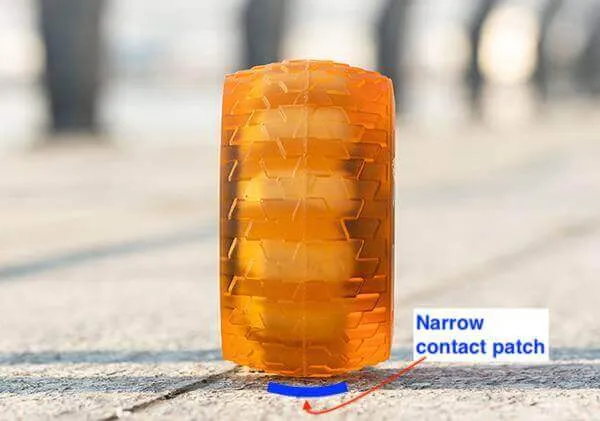 Pioneer 4 vs Pioneer X4 – Hub vs Belt
Also, for those who are not familiar with the difference between drive-train. Hub motors, in this case, Pioneer 4, give a stiffer ride as the hub motors are embedded inside the rear wheels, and that means less soft urethane to absorb vibration.
Hub motors also generate less torque compared to belt-system.The reason? Unlike belt system, there isn't any gear reduction to amplify the torque.
So why would anyone choose hub(Pioneer 4) over belt(Pioneer X4)?
Well, hub motors (Pioneer 4) are more battery efficient, meaning more range. You also don't have to replace or maintain the belts, which will break or come loose after some time. Oh also, hubs are silent and free rolls without resistance, making it easier to kick push like a regular longboard.
With all that said, amongst all the variations and combinations, Pioneer X4 with 90mm street will give you the most carving fun, while the Pioneer 4 will get the most from the 105mm cloudwheels, as the extra size helps cushion off harsh bumps from the stiff hub wheels.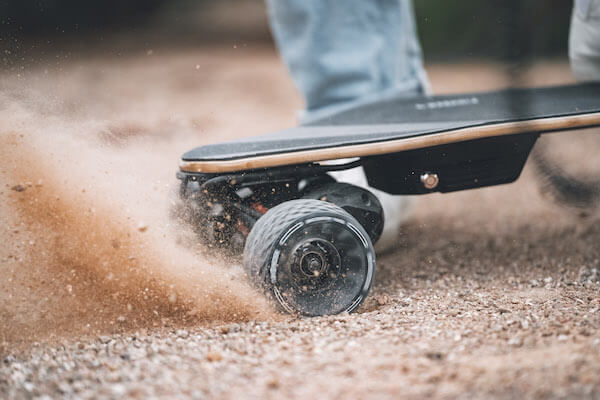 Upgraded specs – Bigger battery, stronger motor.
To keep up with the times, Wowgo Pioneer 4 and X4 have received a small boost in both departments.
Bigger battery – 12s2p Samsung 40T
Wowgo Pioneer 4 and X4 are now rocking 12s2p battery (Wowgo 3 used 10s2p), with Samsung 40T no less (vs 18650 cells previously)!
This gives the pair a 345wh battery, with 21-22miles (32-35km) of range.
These are competitive numbers for the price. For context, its closest competitor, the Exway Flex ER ($799) has a similar battery package (12s2p 345wh) while costing $100 extra.
Wanna see the numbers? Check out the data chart that we have painstakingly compiled.
Bigger hobbywing motors – 680W & 700W Hobbywing
So, the Wowgo Pioneer 4 uses a set of 680W hub motors and the Pioneer X4 has a pair of 700W belt motors.
While wattage number is not the best way to reliably compare motor performance, this is the only information we have at the moment. So, based on the motor wattage, the Pioneer 4 and X4 are 20% stronger than their predecessor and about as strong as any of their similarly priced competitors.
This basically means that the Wowgo Pioneer 4 and X4 are not going to struggle on power and torque, as they improved over the previous Wowgos which were already plenty strong. However, they are also unlikely to give thrilling accelerations or win many drag races as those are not the strongest motor out there. Thrill and power weren't the ride profile that the series are going for anyways.
The boards have a modest top speed of 28mph (45kmh).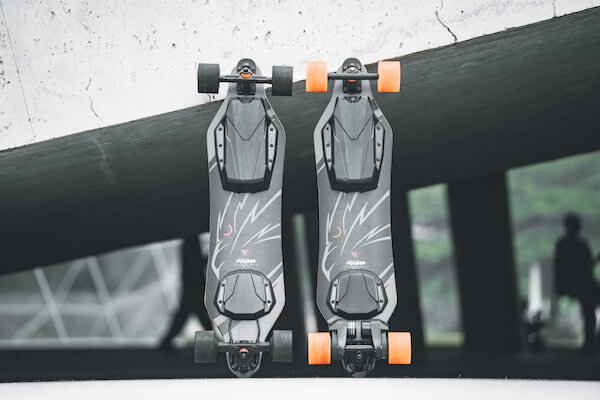 Takeaways – Wowgo Pioneer 4 and Wowgo Pioneer 4x
It was quite the irony that the Pioneer series is quite the antithesis of innovation. Both the Pioneer 4 and 4X offers nothing new and merely improve over the popular Wowgo 3 and 3X. However, this is not to say that the Pioneers aren't good boards or weren't competitive. Actually, it is quite the contrary.
With slight improvements over Wowgo 3's already very refined riding experience, coupled with well-rounded specs that are competitive at $649-$699, the Wowgo Pioneers 4 and X4 are the definition of a 'safe choice' for those who are looking for an enjoyable ride without breaking the bank.
reviewed by PAXSON LIM from https://www.electricskateboardhq.com/wowgo-pioneer-x4-news/